Dag 6: Woensdag 19 mei 2021: Glen Mazeran – Aviemore, 27,7 km
Dit bericht is onderdeel van een aantal berichten die gaan over de wandeltocht die mijn zus en ik in mei 2021 gaan lopen. Met deze berichten probeer ik mezelf voor te bereiden op de tocht. Door de route stap voor stap uit te schrijven, zie ik welke bijzonderheden we onderweg tegen gaan komen en kan ik alvast een beetje inplannen waar we wanneer zullen aankomen. Daarnaast hoop ik dat het voor jou als lezer ook leuk is om mee te gaan in onze voorpret. Op zijn minst hoop ik dat er een klein beetje informatieve waarde zit in deze berichten. Schotland is immers een prachtig land!
Dag 6. Vandaag lopen we aan de andere kant van River Findhorn. Aan het eind van deze dag zullen de weersomstandigheden bepalend zijn voor hoe en wanneer we verder gaan na vandaag. Maar daarover later meer.
Carn Ruighe Shamrhaigh – track south of Carn an Ailean – the Old Military Road – Sluggan – continue with the OMR to Kinveachy Lodge then head S on forest tracks to NH889 140, then into Aviemore High Range Lodge Hotel (phone-in + resupply).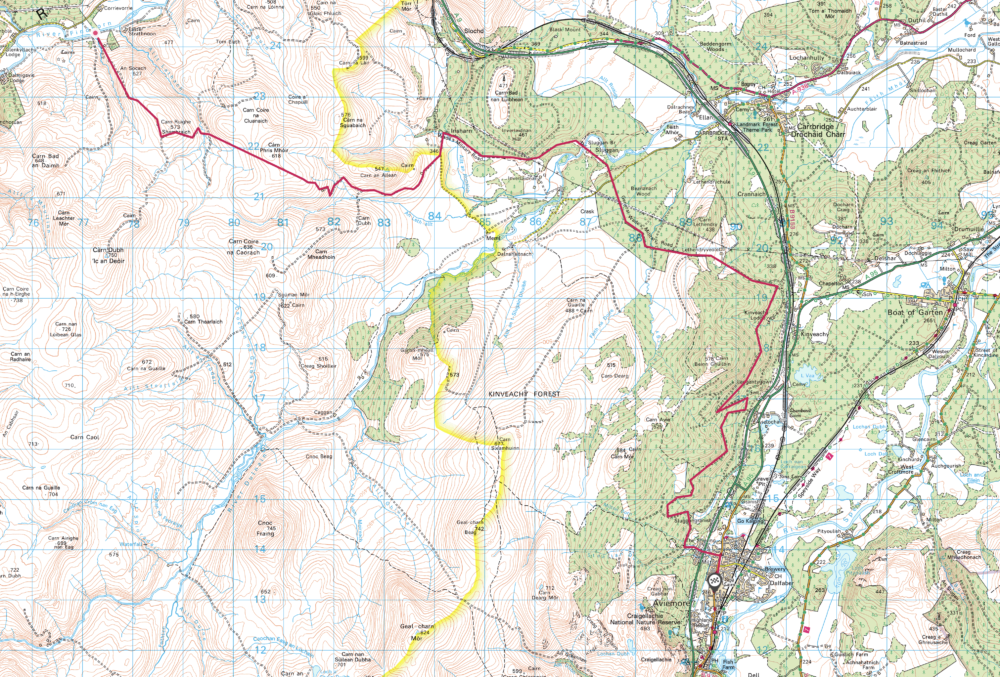 Commentaar van de Vetter
Onze 'vetters' schreven over vandaag: First of all I would suggest placing a rest day at Aviemore so if you do run across any problems you have some time to play catchup. A better route into Aviemore is to continue with the OMR to Kinveachy Lodge then head S on forest tracks to NH889 140, then into Aviemore.
Foul Weather Alternative: I would suggest carrying on to Aviemore where you will be able to get a forecast for the next few days and make your decision then. I would want a 48 hour clear window for your proposed route over Cairn Gorm so if the weather forecast is poor for 20th you could remain in Aviemore and take a rest day. If the weather is to clear for the 20/21th, you have plenty of time in hand on your originally proposed route; which is of course what I am working from. If the forecast for 20/21th is not good then you can move on without delay.
Onherbergzaam gebied
Het grootste deel van de dag lopen we door onherbergzaam gebied. Ongeveer 3/4 kilometer nadat we vandaag hebben opgebroken, stopt het pad en zullen we zelf voor 2 kilometer moeten navigeren. Willen we hier een mooi uitzicht hebben, dan kunnen we over de top van Càrn Phris Mhòir (618m) lopen. Ten noorden van ons loopt een vrij drukke weg; de A9. Het kan zijn dat we die zien of wellicht iets mee krijgen van het verkeer daarop.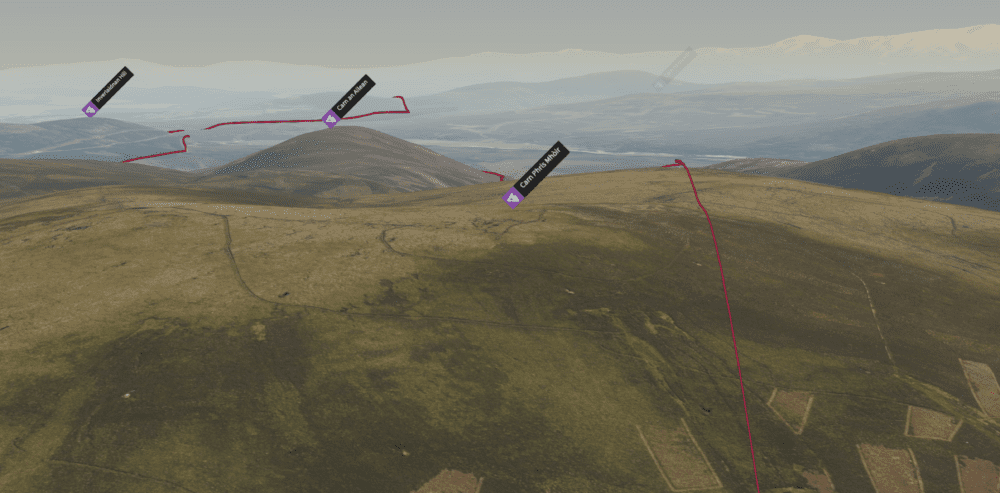 Oude militaire weg
Na zo'n 10 kilometer stappen we een historische militaire weg op:
The Old Military Road between Dunkeld and Inverness was built between 1728 and 1730 under the auspices of General Wade. Much of it now lies under the A9. But a few sections* such as this stretch via the Slochd take a different alignment and can still be followed.
We volgen de weg en lopen dan over de brug bij Sluggan waarmee we River Dulnain passeren.
The Sluggan Bridge was built by Caulfeild in 1764 to replace the ford on Wade's road. Just five years later, it was necessary to rebuild the bridge, it having been destroyed by floods. At the turn of the eighteenth century the Sluggan Bridge was bypassed. Along with the section of road to its south, by the building of the direct road from Carrbridge to the Slochd.
Na een kilometer of 8 komen we bij Kinveachy. Vanaf hier lopen we langzaam aan bewoond gebied in met nog steeds de A9 links naast ons. We proberen zoveel mogelijk die weg te vermijden. We blijven zo lang mogelijk in het bos tot we Aviemore kunnen inlopen.
High Range Lodge Hotel
In Aviemore staat ons, hopelijk als Covid-19 ons dat toestaat, een heerlijk hotelbed te wachten.
Hi Marty, Apologies that no one has gotten back to you yet. These have been very strange times that have gone on for much longer than we hoped.Wwe remain closed at the moment. A lot of our work has been from home. I'm afraid when the 2021 pricing has been done we have somehow missed rebooking your rooms for you and your friend. I can only apologise for this. We haven't been in the office as often, but that's no excuse for missing the note on your booking.
Unfortunately there are no rooms with two single beds. But I have pencilled you and Mr Norman in for two double rooms. They come with additional sofa beds if that is ok? Each room sleeps two singles with a double bed and a comfortable double sofa bed, which will be made up for your arrival. Please let me know if that would be suitable. There is no additional charge for the rooms with the larger beds. Kind Regards, Reception, High Range Holiday Complex
We blijven hier 1 of 2 nachtjes. Alles zal afhangen van de weersomstandigheden, maar daarover meer in de volgende blog over dag 7.