DAG 12: MaanDAG 23 MEI 2022: Water of Feugh – Stonehouse, 32,4 KM
Dit bericht is onderdeel van een aantal berichten die gaan over de wandeltocht die mijn zus en ik in mei 2022 gaan lopen. Met deze berichten probeer ik mezelf voor te bereiden op de tocht. Door de route stap voor stap uit te schrijven, zie ik welke bijzonderheden we onderweg tegen gaan komen en kan ik alvast een beetje inplannen waar we wanneer zullen aankomen. Daarnaast hoop ik dat het voor jou als lezer ook leuk is om mee te gaan in onze voorpret. Op zijn minst hoop ik dat er een klein beetje informatieve waarde zit in deze berichten. Schotland is immers een prachtig land!
Water of Feugh – SE Wood of Easter Clune cross Water of Aven* at NO 6115 8978 – The Drummels – Scolly's Cross –  continue S on road to NO 648853, via Garlot Hill, Tipperweir, South Dennetys (main track through the wind farm) – N at  NO 7279 8520 – E to North Dennetys – Stonehouse (phone-in)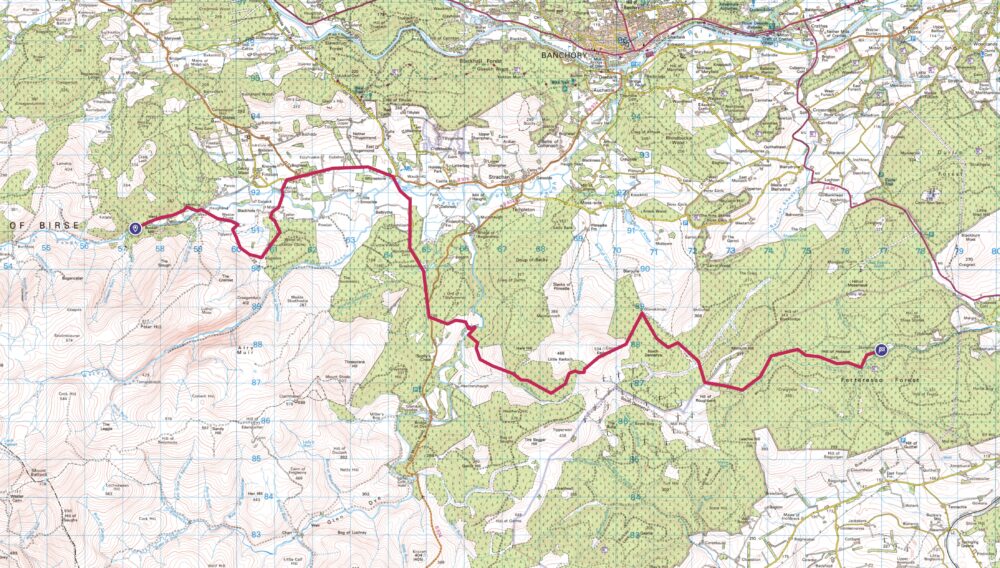 Dag 12 alweer. Wat gaat het hard. Vandaag zo'n beetje de laatste heuvels en veel bos. En windmolens in het Fetteroso Forest.
Over vandaag schreef een van de vetters: I have been trying to find out what the Water of Aven is like at your crossing point. It is clearly a ford but I am not sure how feasible it is to wade. Your crossing point for the Water of Dye is NO 664887 not 662884 and getting to North Dennetys from there is not easy. The route I would recommend is to continue S on the road to NO 648853, then go via Garlot Hill, Tipperweir, South Dennetys (main track through the wind farm) and then turn N at NO 717853 onto the main forest road leading to Stonehouse. This is quite direct. Your FWA option of Strachan-Moss-side-Glenskinnan is actually not a bad one as it leads directly to the Stonehouse track at NO 732868 and saves quite a bit of distance (and fiddly routefinding).
Water of Aven
We moeten afwachten hoe het gesteld is met het Water of Feugh en het Water of Aven. Maar zalmen- en ottergebied klinkt gaaf. Of we die ook gaan zien?
The Water of Aven (or A'an) (Scottish Gaelic: an t-Uisge Bàn) is a tributary of the Water of Feugh, itself the largest tributary of the River Dee, Aberdeenshire, Scotland. The Water of Aven rises at Loch Tennet, where the historic counties of Aberdeenshire, Angus and Kincardineshire meet and flows for approximately 15 km to its confluence with the Feugh near Whitestone. The Water of Aven forms the historic boundary between Aberdeenshire and Kincardineshire for its entire length and the lower 4.5 km are designated as part of the River Dee Special Area of Conservation, due to its importance for Atlantic salmon and Eurasian otter. (Bron: Wikipedia)
Bridge of Dye
We passeren ook het Water of Dye over de Bridge of Dye.
Daarna vervolgen we de weg door het Fetteroso Forest en lopen we (helaas) langs windmolens. Heel veel bijzonders is er onderweg niet te zien. Vlak na de Hill of Hobseat vinden we onze allerlaatste wildkampeerplek van deze wandeling. Morgen lopen we naar Stonehaven en vinden we de Noordzee.